Full-Day (8-hour)
Hiroshima/Miyajima Tour
Fee: ¥50,000
Expenses: about ¥5,600 per person
Six-Hour
Hiroshima-Only Tour
Fee: ¥42,000
Expenses: about ¥3,800 per person
Six-Hour
Miyajima-Only Tour
Fee: ¥42,000
Expenses: about ¥5,600 per person
Half-Day (4-Hour)
Hiroshima Peace Memorial Park & Museum Tour
Fee: ¥35,000
Expenses: about ¥1,800 per person
Hiroshima/Miyajima Full-Day (8-hour) Tour
This tour is the perfect way to learn about the tragic history of Hiroshima and marvel at the way the city has recovered to become one of Japan's most appealing and vibrant urban centers. After visiting Hiroshima, you'll head to the nearby island of Miyajima, to enjoy the greenery and fresh air and see one of Japan's most iconic sights: the mysterious "floating Shinto shrine gate" at Itsukushima-jinja Shrine.
Your guide will meet you at the Hiroshima shinkansen (bullet train) station, a hotel in Hiroshima or other requested place in Hiroshima (including the cruise ship port) and escort you to the Hiroshima Peace Memorial Park. You will take your time exploring the Peace Park, where your guide can give you insights into what you are seeing and a chance to hear the story from a Japanese perspective.
You'll then travel to Miyajima Island, first viewing the island and the floating shrine gate from the ferry. Once on the island, you'll take a leisurely stroll along the seaside through to reach the famous Itsukushima-jinja Shrine (you'll probably spot some of the island's sacred deer along the way). You will then take a walk through a forest of maple trees and have a look at a historical ryokan (traditional Japanese inn). You'll eat lunch in a traditional restaurant on the island.
After lunch, you can take a funicular to the hilltop to sample views over the Inland Sea or enjoy a walk through a neighborhood of old houses and souvenir stores, sampling some local sweets.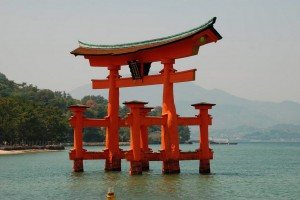 For those staying the night on Miyajima, our guide will drop you at your accommodations at 4pm. Otherwise, our guide will escort you back to either the Hiroshima shinkansen station or your hotel in Hiroshima.
This tour takes 8 hours and costs ¥50,000. The cost of lunch and transportation during the tour is not included. Approximate costs are as follows: taxi and public transportation — approximately ¥1,800 per person; funicular ride on Miyajima — ¥1,800 per person for a round trip; lunch — ¥1,500 to ¥3,150 per person. We also ask that you cover the guide's expenses during the tour.
Six-Hour Hiroshima-Only Tour
For those who want to explore Hiroshima only, we offer a six-hour Hiroshima tour. This tour costs ¥42,000 per group.
Six-Hour Miyajima-Only Tour
For those who want to explore Miyajima only, we offer a six-hour Miyajima tour. This tour costs ¥42,000 per group.
Half-Day (4-Hour) Hiroshima Peace Memorial Park & Museum Tour
If you just want to explore the Peace Memorial Park and Peace Memorial Museum in Hiroshima, we offer a half-day (4-hour) Peace Park & Museum tour. This tour costs ¥35,000 per group.
As with all our tours, these tours are totally private — you'll enjoy the incredible sights of Hiroshima in the company of your family and friends and no one else. This is the intelligent way to enjoy one of Japan's richest historical cities.
For information on fees, please see the Fees page. To book a tour, contact us.